La radio digitale sta prendendo il vecchio mezzo di trasmissione nell'era digitale con la musica cristallino, centinaia di nuove stazioni, su richiesta della radio, il suono surround, riavvolgere la radio e altro ancora. TI con i suoi partner strategici forniscono ready-to-go moduli e progetti di riferimento per applicazioni di radio digitali quali: automotive, casa, applicazioni hi-fi portatili e domestici. TI ei suoi partner strategici, radioscape e iBiquity, fornire, soluzioni economiche a basso rischio per un rapido cambiamento del mercato radio digitale.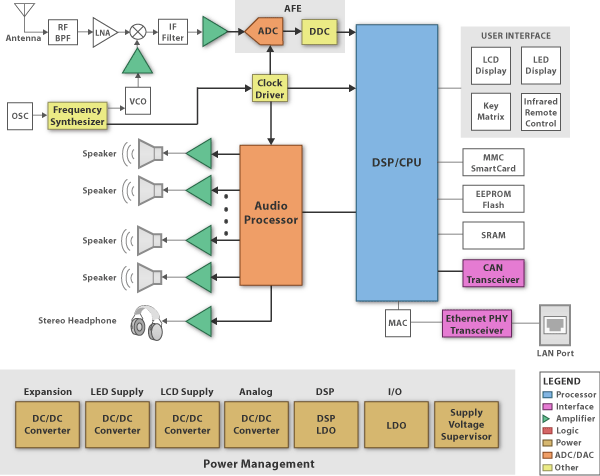 TI's Solution includes:
Analog Front End - built around a high-speed ADC including Low-Noise Amplifiers (LNA), frequency synthesizers, and high-speed Op-Amps. The LNA boosts the RF signal from the antenna. The frequency syntahesizer generates a Local Oscillator (LO) signal that is mixed with the RF input to form the IF signal. The high-speed ADC converts the IF signal into digital samples.

Digital Down Converter (DDC) - performs down conversion, digital mixer, and decimation filtering to provide baseband I and Q output signals.

DSP/CPU - performs I/Q demodulation and outputs digital audio and data. The CPU controls the user interface, bus interface, and network interface.

Analog Output - uses stereo DACs and audio power Amps to send analog audio output to the speakers.

Bus/Network Interface - transfers data through high-speed parallel bus on the back plane (PCI, VMEbus) or high-speed ethernet.

Clock Source - provides clocking for different data acquisition options and modes.

Power Conversion - converts input power to run various functional blocks.