Un sistema di identificazione a radio frequenza o RFID di base č costituito da un'antenna, ricetrasmettitore o il lettore e transponder o tag. Attraverso un antenna, il lettore "eccita" il tag senza batteria con energia RF. Questo fornisce abbastanza energia per il tag di trasmettere le informazioni memorizzate, di solito i dati di identificazione, di nuovo al lettore. Ci sono un numero infinito di applicazioni, tra cui l'inventario, la sicurezza, caselli, la gestione dei bagagli, e le applicazioni di monitoraggio. National offre una vasta gamma di parti wireless e di rete per un sistema RFID completo.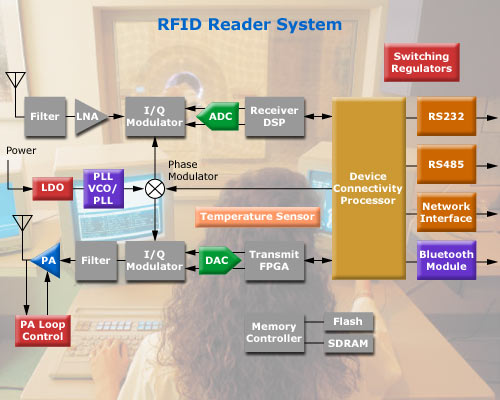 Component Highlights
Processor System - RISC core with on-chip SRAM and FLASH memory provides high computing bandwidth, and additional integration of USB and CAN bus interfaces allows multiple sensor and data transfer interface options. Designed to work with the National Bluetooth RF interface devices and run the entire software protocol stack.

Bluetooth® Technology - space-saving, flexible options from standard products to customizable products to full custom ASICs meet the critical needs of consumer electronics.

ADC - select from several high-speed 10- and 12-bit converters, many offering digital error correction and on-chip sample-and-hold circuits to minimize power consumption.