Mentre le industrie della televisione via cavo e TV via satellite godere di un altro anno di crescita sostenuta, molti operatori via cavo / satellite continuano ad investire nella "digitalizzazione" dei loro sistemi. Questo si traduce nel passaggio dell'infrastruttura di trasmissione televisiva da un ambiente analogico ad uno digitale. Una volta che un sistema via cavo / via satellite ha compiuto la transizione, gli abbonati hanno accesso a un numero maggiore di canali video, il servizio Internet ad alta velocitÓ, e anche il servizio di telefonia vocale. Il mercato dei set-top box, che Ŕ una parte fondamentale di questo aggiornamento digitale, sta beneficiando di questa evoluzione. Nel progettare la prossima piattaforma di set-top box, non c'Ŕ bisogno di guardarsi intorno per componenti video. TI offre una gamma completa di soluzioni video per soddisfare le esigenze specifiche del nuovo set-top box digitale. TI copre l'intera catena del segnale, con il THS8200. Si tratta di un "all-formato" video a componenti back-end con conversione dello spazio colore e l'inserimento automatico di sincronizzazione. E 'in grado di elaborare tutti i formati SDTV e HDTV.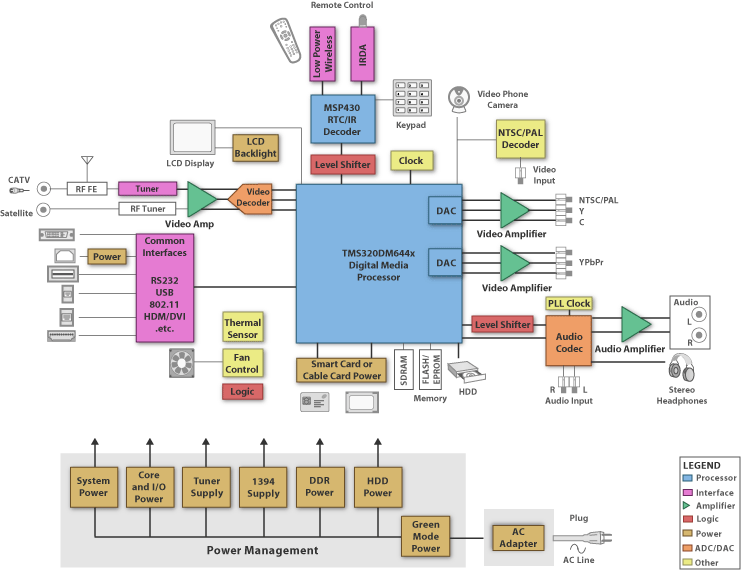 A Digital Set-Top-Box (STB/PVR) system would include:
DSP - performs MPEG encoder/decoder, and voice/AC3/MPEG audio processing.

RF Demodulation - performs COFDM/QAM/QPSK demodulation, Forward Error Correction (FEC) and video mux.

MCU - controls system electronic, network, and user interface.

Memory - stores executing code and data/parameters.

Video Interface - selects video source to be decoded/encoded by ADC/DAC and DSP. Both the video front end and output stages require high-performance op-amps to amplify the video signal.

Audio Interface - allows audio to be digitized by the audio codec and processed by DSP to provide high-quality audio for MPEG/AC3 requirements.

User Interface - allows the user to communicate with system network, control video/audio I/O sources, and perform voice/data communication.

Broadband & Wireless Connectivity - allows interactive TV, gaming, streaming audio and video, voice over IP (VoIP), and video telephony to transmit and receive through ADSL, cable modem, and 802.11 interface.

Power Conversion - converts the input power from the AC adaptor to run various functional blocks.