Sistemi di allarme auto sono diventati sempre pił avanzate negli ultimi anni. Nuova tecnologia di tracciamento compresi basato su GPS del veicolo, la configurazione di allarme senza fili e telecomandi con display LCD sono comuni in sistemi di allarme di oggi. Nazionale supporta i sistemi di alimentazione in continua evoluzione in auto, offrendo parti regolatore per entrambi i sistemi a 12V e 42V. Nazionale offre anche un ampio portafoglio di fili, amplificatore, e display automobilistici utilizzati nei sistemi di allarme pił avanzati di oggi.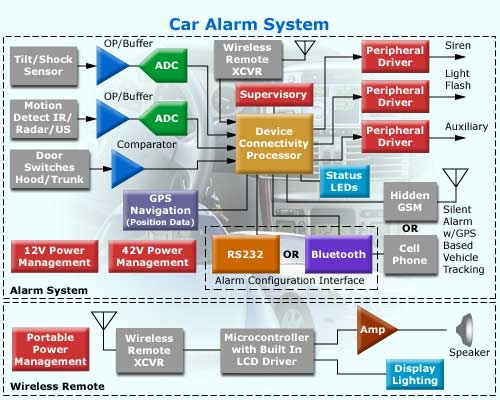 Component Highlights
Regolatore switching - convertitore ad alta efficiente capace di fornire fino a 1-5A da sorgenti di tensioni fino a 60V.

Bluetooth® Technology - space-saving, flexible options from standard products to customizable products to full custom ASICs.

Processore di sistema - Massive integration combined with high performance allows the CP3000 family of connectivity processors to include many of the functions required in this application.

White LED drivers - efficient, low noise, and simple to drive, these devices produce brightness matching and color uniformity in chip-scale packaging.